On 19th April at Delhi Haat, 5000+ students and professionals witnessed the third edition of Delhi CG Animation Awards organized by MAAC Pitampura, Rajouri Garden, South Ext and Hero MotoCorp.
For sure, it must have been a tough task for Jury members from studios The Imagine Studio, Apps Studioz, Verve Studios, Blue Mango Films, Pencillati, 29 Kreativ, Broadcast2World, River Bank Studios, Sparrow Interactive to pick winners from 1008 Entries submitted for consideration in categories ranging from 3D, Vfx, Live Action, 2D and Stop Motion.
CG Animation Feature award was grabbed by 'Sound of Joy', Directed by Sukankan Roy, and also recently picked by Best Animated Film Award at NIFF 2014.
The awards ceremony was a part of a daylong event that kick started in the afternoon and saw spot competitions such as T Shirt Painting, Face Painting, Treasure Hunt and more were organized for students from MAAC centres of Pitampura, Rajouri Garden and South Extension. Also took place was, screening of all closed category films made by around 700 students these centres.
The team of DCGAA organized a Studio Exhibition with 15 participating studios and Industry Expert Sessions for students and professionals to inform them about studios and the trends of Indian animation industry. Creator of "Garbage Bin", Mohd Faizal also graced the occasion by conducting a session on creating Gags and Comic Strips.
The awards ceremony opened with a key note speech by Ram Warrier, Business Head of MAAC. Winners lifted the prestigious trophies and took away certificates of Delhi CG Animation Awards 2014 along with a gift voucher from Wacom that entitles them to 50% off on Wacom Products.
"We look to extend the scope of this Festival to being an Organization which holds perennial events throughout the year towards the development of Animation and VFX Industry of Delhi and at the same time make a visible impact in the Global Computer Graphics and Film Making Industry.", concludes, Deepak Choudhary, Founder Director, Delhi CG Animation Awards.
As promised before the event by Mr. Deepak Choudhary, Director, MAAC South ext, the event not only sustained its vision to provide a meriting platform, rather also grew on to become a festival beyond comparison in the Indian Animated Film Making Sphere. When asked about this leap, Deepak says, "Our vision is to keep growing and also help our fellow film makers grow, thus propelling a strongly unified growth for the entire industry."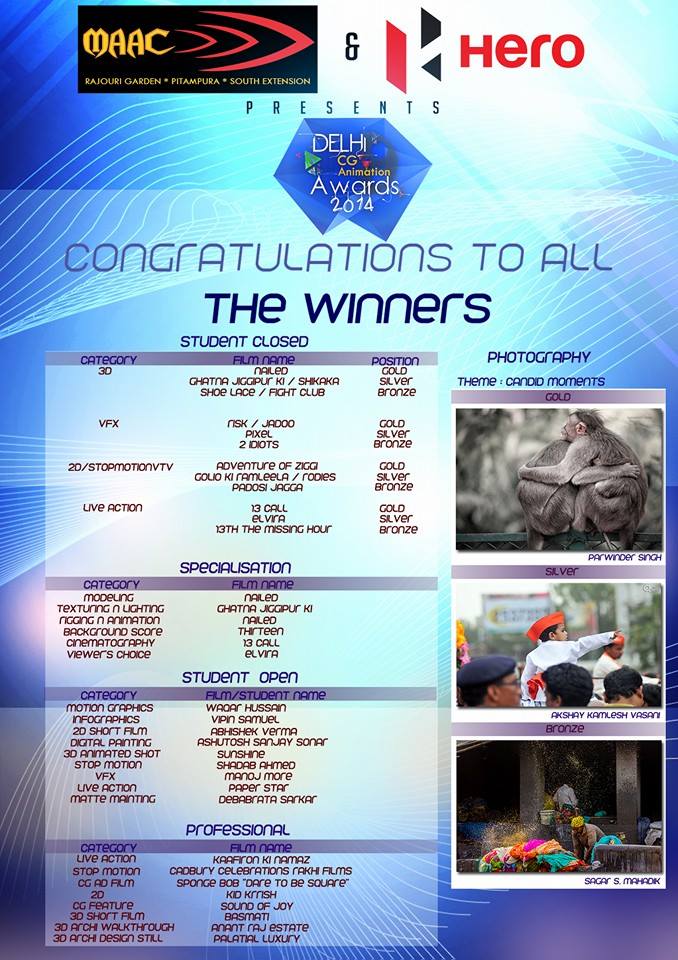 Back to History